CLOSED for 2020/2021 Season
902-295-2292
For Charitable donations or ice rentals payments can be sent to
NEW REGULATIONS: UPDATE
Effective February 8th 2021
Businesses and organizations can host in-person events and activities (indoors or outdoors), including:

sports (recreational, amateur and professional), recreational and physical activity events

Indoor gathering limit with social distancing for events and activities hosted by a recognized business or organization – 50% of the venue's capacity up to 100 people maximum indoors (including spectators of sports and performing arts).
Spectators are permitted at events (including sports games and practices and arts and culture rehearsals and performances) hosted by recognized businesses and organizations; in-person spectators are not permitted at events held at a school.
The VHCC

Covid-19 Rules & Regulations

:
Enter building through the front entrance and exit through side exit between dressing rooms.
Sign in sheet at front door for all visitors/players.
Wear masks at all times.
Maintain social 

distancing at all times ( X's are marked on the stands in

orange

and

green

).

Players can enter the rink up to 30 minutes BEFORE ice time. Leave no later than 15 minutes AFTER ice time.
One unisex bathroom is available for use.
Bottles with hand sanitizing spray are located at entrance and outside washroom.
The heated upstairs area is NOT open to the public at this time.
Masks are not required on the ice (up to 60 persons).
Each team will be responsible to assign a person to screen all players and parents before they enter the rink and to follow the contact tracing protocol.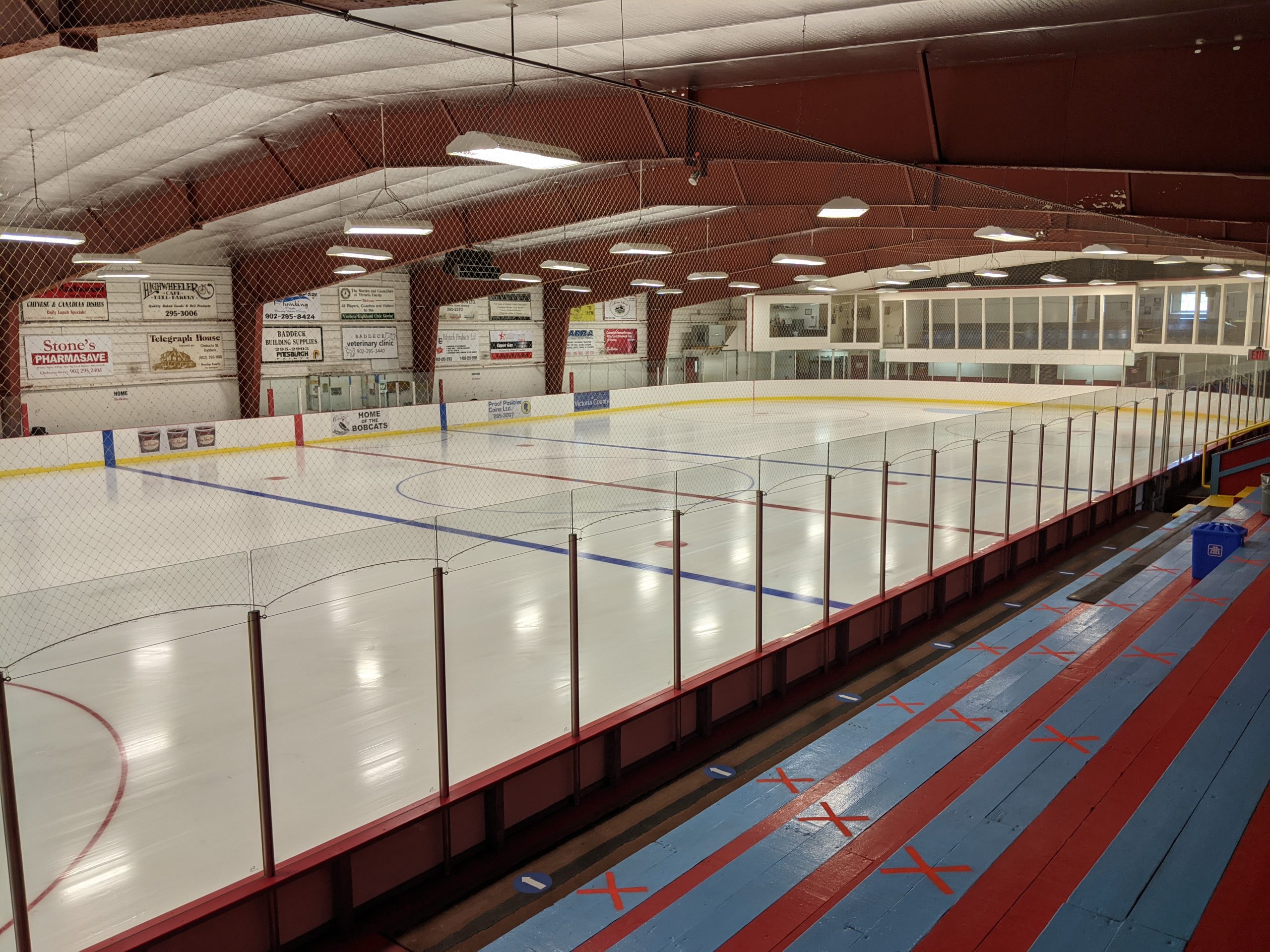 Below you will find a 7 day schedule for current bookings and events, the schedule will be updated daily. For all other inquiries please phone the rink directly at 902 295 2292. If we do not answer, please leave a detailed message along with your number and we will get back to you as soon as possible. You can also reach us at baddeckvhcc@gmail.com
CLOSED FOR THE SEASON 2020/2021                                                                               
Friday Stick Practice from 3pm-4:30pm. This will be a helmet, skates, stick and gloves only event. $5 per skater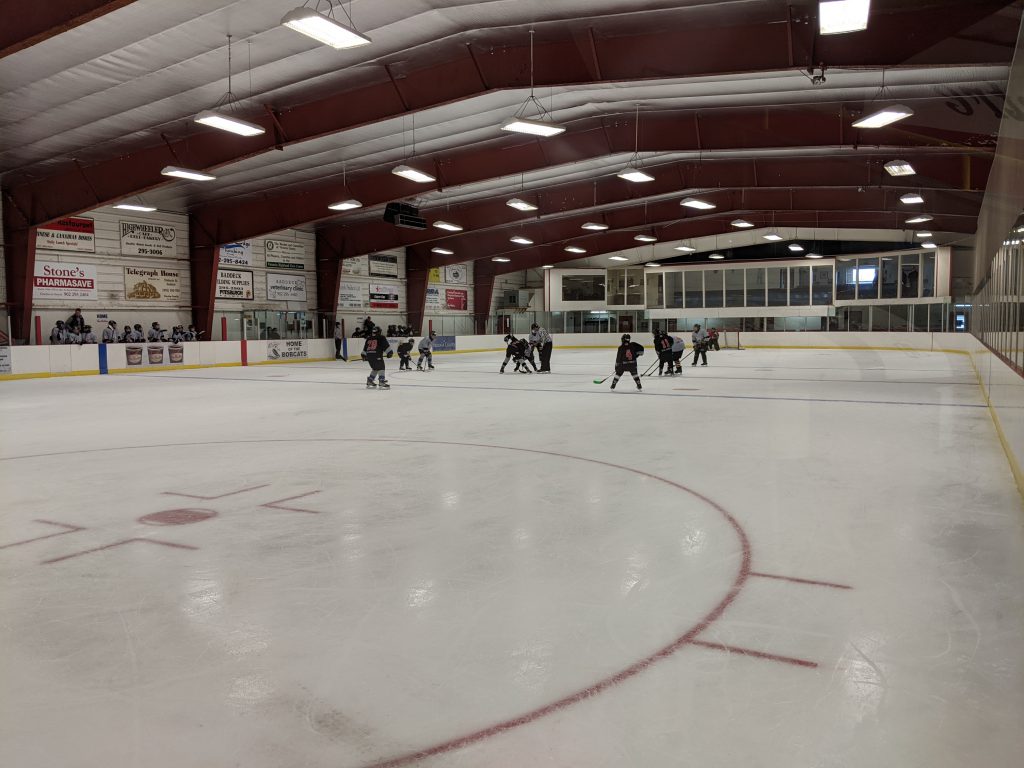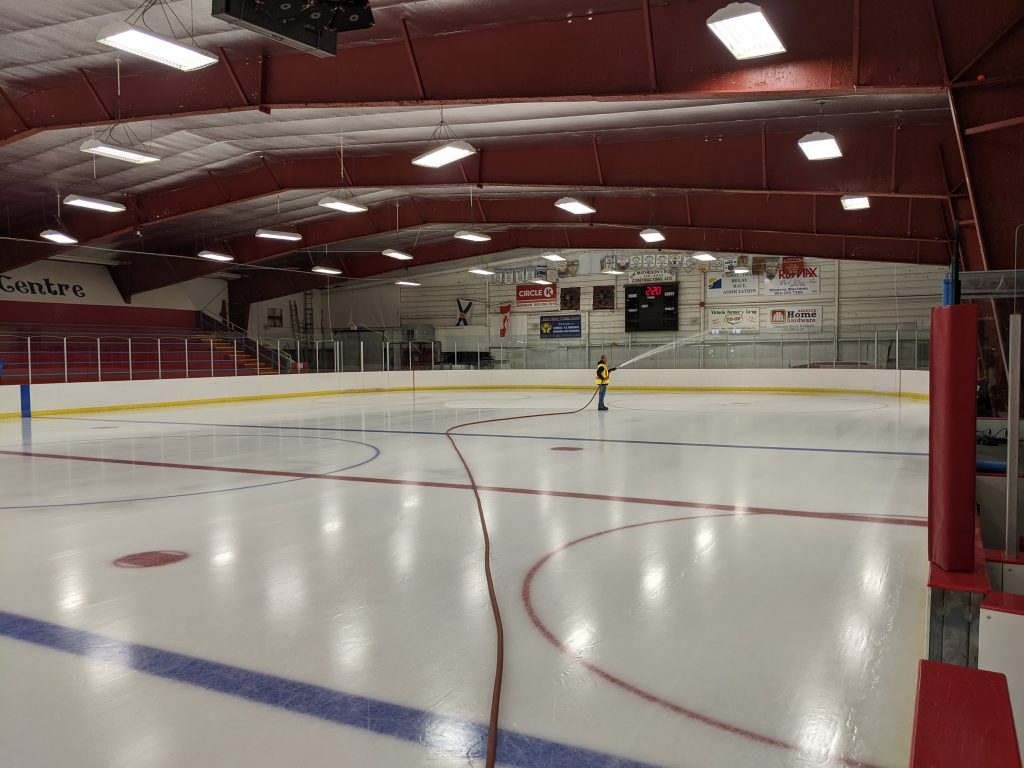 The VHCC would personally like to thank the following:
BARRA CONSTRUCTION Ltd
RIVERSEDGE PLUMBING
MONTY NICHOLSON
CHARLIE WEAVER
CALVIN MACINNIS
Without the help of the community, the rink would not be open, thanks again.
SPECIAL THANKS TO EVERYONE FOR THEIR SUPPORT!!
The Victoria Highland Civic Centre was founded in 1974, in Baddeck, NS as an indoor skating rink.
Skate Sharpening
Please drop your skates off a day in advance with the rink staff. ($5.00 a pair for hockey skates and $6.00 for figure skates)
Public Skating
Ice skating sessions for the public are one of the main attractions at Victoria Highland Civic Centre. Skating provides great exercise and an opportunity to get out of the house – plus, it's not like exercising at the gym… skating is fun! Lace-em up and come join the others. Get on the ice and get ready for a great experience. $3 per person, $10 for a family of 4 or more.
Victoria Highland Civic Centre offers Ice Skating Lessons.
Are you an adult looking to learn to skate? Do you have children yearning to skate like the pros? If so, the folks here love to teach and their instructors are top notch. For beginners they usually focus on providing the basics. For more advanced skaters they focus on proper form, technique and getting you ready to meet your goals. Call us at (902) 295-2292 for more details.
Ice Hockey
We offer both Adult and Youth Ice Hockey programs and leagues. Whether you are a beginning skater looking to play on a team in an instructional league or an experienced ice hockey player looking to get out and play with others of a similar caliber, Victoria Highland Civic Centre is the place to play. Give us a call at (902) 295-2292 to inquire about available leagues. The experienced group will help get you ready for your next game.
Pickup Hockey
Looking for a casual game? We also offer both adult and youth pickup hockey. Call us at (902) 295-2292 to inquire about our pickup hockey schedule.
Ice Hockey Clinics
On occasion we offer Ice Hockey Clinics for adults and youths.
Please call (902) 295-2292 for details.
Birthday Party or Event Planning?
Why not have your party or event at the Victoria Highland Civic Centre?  We'd love too help you celebrate. Give us a call if you'd like to schedule your event now at (902) 295-2292. Please call at least one week in advance to properly schedule your event. Note: The heated section of the rink is not open at this time due too Covid-19 restrictions.